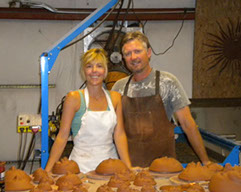 Chris and Karen Montgomery and Mike Markham are the owners of Elizabeth Keith Designs located in Cary, North Carolina.
The majority of the "elizabeth keith designs" consists of "whimsical garden suns". They offer an abundance of personalities in the form of a sun. Whether you choose a large face, a happy face or a peaceful face, each face is meant to enhance your garden and to inspire you!" In addition to the "Garden Suns" they have a large selection of Metal Words and Metal Garden signs to offer. The Metal Art selection of the business continues to grow.
All of their "Gardens Suns " and "Metal Signs and Rays" are made in their studio and they are delighted to put "Hand Crafted in Cary, North Carolina" on all of their hangtags.
Born and raised on a remote ranch in Jackson Hole, Wyoming, Michael developed an independent, observant nature. Artistic expression has been an essential element of his life, through its many seasons and phases. He now makes his home in the small village of Cambria on California's beautiful Central Coast, an inspiring atmosphere for creativity. Working in his home studio, Michael sculpts the original designs in clay, striving to infuse each one with individual warmth and character, The faces are then carefully cast in durable materials.
Below are some examples of their work.