PO Box 246 58401 South Highway 12, Hatteras, NC 27943 Tuesday-Saturday 10 - 5 252-986-6510 252-986-6511
On the Outer Banks of North Carolina and located in Hatteras Village, the SeaWorthy Gallery stands out as the premier showplace of collectible art on Hatteras Island. Here in a relaxed and tranquil setting, one finds an elegant presentation of eclectic art forms from paintings, photography, sculpture, pottery, jewelry and home decor. Secluded above the gallery are three beautifully decorated vacation condos with breathtaking views of Pamlico Sound and Hatteras Village.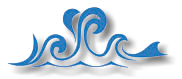 Art is a collaboration between God and the artist, and the less the artist does the better.
Featured Artist
Carole Nunnally
As an artist, I look for something that appeals to me, and I immediately know that I need to paint it. I carry my camera all the time. For me, my photographs magnify the beauty of the objects around us. God blesses us with infinite beauty. It is truly a gift to express His Love through my art. May you be blessed by it.


​Sculpture is the art of intelligence.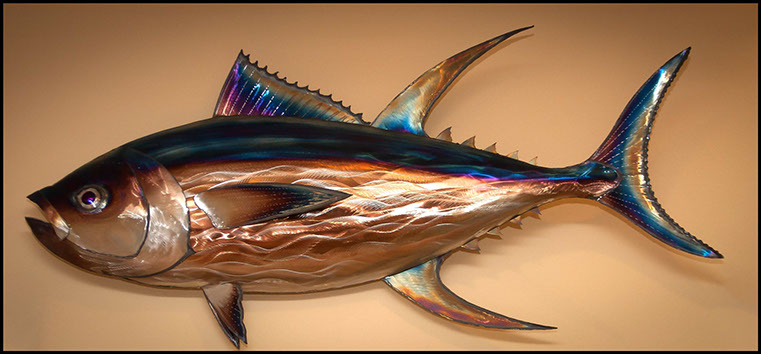 Distinctive Metal Sculptor
Cary Caldwell
Gary Caldwell has crafted distinctive, beautiful art in stainless steel for over 30 years.
He is completely self-taught, with a flair for transforming sheets of stainless steel into fanciful three-dimensional creations. He first researches his subjects for anatomical accuracy. Then, with skilled hands and 6,000 degrees of heat, he bends and shapes flat steel into a life-like sculptures, and grinds, cuts, and/or welds to create texture on the surface. After this intricate process, he carefully heats the steel with a torch to bring out vibrant colors that include cobalt blue, burnished bronze, and coal black.
The combination of Gary's creativity and the inherent variances in his design process ensures each finished piece of art is original and unique. The beautiful colors are permanent -- little maintenance is required -- so his sculptures are appropriate for display inside a building or out in a garden.


For a potter to be able to make a pot that has life and vitality there has to be some brain power connected, some intellectual curiosity.
Featured Potters
Bob and Corina Neher
Bob's interest in pottery began in high school when his instructor introduced him to throwing and his interest grew from there. After graduation, pottery was done in his spare time in an effort to perfect his craft. Corina's interest in pottery also began in high school and upon meeting Bob, she worked with him in perfecting the art. They are a great team as Bob does the throwing and firing while Corina works on the glazing and decorating.
Each handmade piece is fired at 2200 degrees Fahrenheit and is lead free, dishwasher, oven, and microwave safe. All of the clay used at the studio is of the highest grade giving it a smooth texture and high density. Each piece is inspected to ensure the finest handmade quality possible.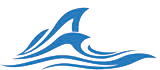 Jewelry takes people's minds off your wrinkles.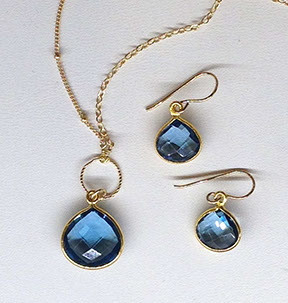 Featured Jewelry Artist
Judy Brandon
I have been designing and creating jewelry since 2001. I often have more jewelry design ideas in my head than my two hands can create. My designs are delicate, elegant, and easy to wear. My goal is to create pieces that are everyone's go-to jewelry they want to wear all the time. I use colorful precious and semi-precious gemstones along with sterling silver and 14 kt gold fill to create my work. I handcraft all my designs in my studio in Southern California. Thank you to all the amazing customers that buy my work allowing me to continue to do what I love!


I don't think people have enough fun with decorating. It doesn't always have to be so serious. Design isn't like marriage. You don't have to commit for life.
Featured Home Decor Artist
William Tabor
Sand pictures by Exotic Sands are handcrafted with seven beautiful colored sands from around the world. Black from the African coast, white sands from New Mexico, green from South America and coral pink sands from Southern Utah. A quality knotty alder wood frame seals a highly guarded, non-toxic solution.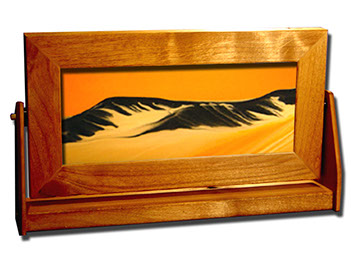 Art is not what you see, but what you make others see.
Featured Photographer
Laura Ducceschi
Her photography captures the magical way natural light accentuates beauty in nature and in people. Laura's award-winning fine art photography portrays an intimate view of our beautiful world. Her images reveal how natural light emphasizes color and texture.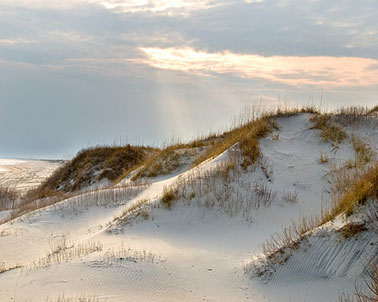 Return to Top of Page
email: info@seaworthygallery.com